In current times, people in this country—namely Undocumented, Native, Black, Latinx, Muslim, Queer, Trans, Women—have been under attack by the Administration and its policies, and whether you are a member of one of these targeted communities or an ally, many have been suffering from a constant state of chaos and anxiety. We may feel lost and helpless, but as Gregory Orr points out in Poetry as Survival, "story-making…becomes a major ally in preserving our sense of control over our destiny and circumstance." In this course, we will read and discuss contemporary witness and social justice poetry. We will scan these poems for examples of language, form, metaphor and storytelling and practice wielding these tools in our own writing. Finally, we will attempt to create small poetic offerings of comfort and action for our current chaotic world.
Join me in this writing workshop to learn strategies for taking rage, fear, and heartbreak and turning them into pieces of art that may hold the power to spark change.
February 18 - March 18, 2019
· To read and analyze social justice and witness poetry in order to gain a language and understanding of the genre
· To gain and practice strategies for entering a difficult social subject matter in order to generate new works of poetry
· To gain and practice strategies for hooking an audience into a piece of writing focused on a difficult social subject matter
· To walk away with a finished piece of writing that can be submitted to current resistance and social justice calls
· To obtain tools and ideas for using social media for spreading writing and awareness for social justice issues
WHAT THIS CLASS WILL OFFER
Week One: Facing the Difficult
How do you write about a social justice issue that is difficult, and perhaps even physically painful, to look at? This week we will read pieces by Juan Felipe Herrera, Claudia Rankine, and Ashaki M. Jackson looking for strategies to trick the mind into writing about a difficult topic. We will write new pieces using at least one strategy from the readings.
Week Two: Hooking an Audience
How do you get an audience to read a piece about a social justice issue that is difficult to look at or spend time with? This week we will read pieces by Martin Espada, Carolyn Forche, and Javier Zamora looking for strategies to hook the reader. We will write new pieces using at least one strategy from the readings.
Week Three: Working the Writing
Everyone will submit one piece to be workshopped by the group with the objective of revising the piece based off feedback for the following week.
Week Four: Finding a Home
We will survey current open calls for social justice and resistant pieces as well as look at ongoing social media campaigns such as Poets Responding to SB1070 and #blackpoetsspeakout in order to find possible places to submit or post new work generated in the workshop.
ABOUT XOCHITL-JULISA BERMEJO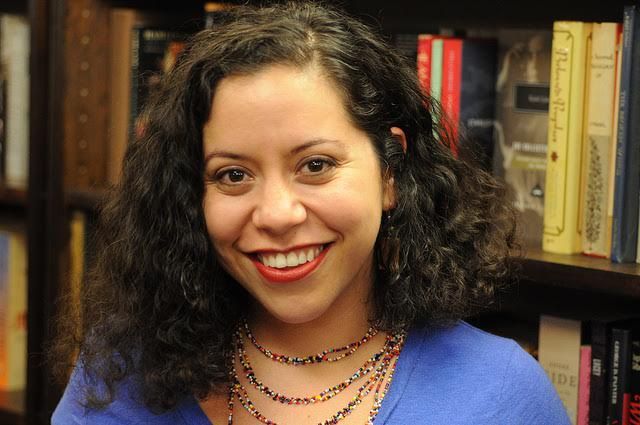 Xochitl-Julisa Bermejo is the author of Posada: Offerings of Witness and Refuge (Sundress Publications 2016), a 2016-2017 Steinbeck Fellow, former Poets & Writers California Writers Exchange winner and Barbara Deming Memorial Fund grantee. She's received residencies from Hedgebrook and Ragdale Foundation and is a member of the Macondo Writers' Workshop. Her poetry is published in American Poetry Review, CALYX, crazyhorse, and Tahoma Literary Review among others. A short dramatization of her poem "Our Lady of the Water Gallons," directed by Jesús Salvador Treviño, can be viewed at latinopia.com. She is a cofounder of Women Who Submit and the curator of HITCHED.
COURSE POLICIES
Students are asked to stay professional and thoughtful within this online forum. Offensive language and/or personal attacks will not be allowed as they are not conducive to the learning environment.