List Price: $199.00
This item is currently unavailable or out of stock.
What the House has to Say: Memoir as Poetry
Now you hear what the house has to say.
Pipes clanking, water running in the dark,
the mortgaged walls shifting in discomfort..."
– from "Insomnia" by Dana Gioia
Each of us has a story to tell, a poem waiting to be written. Perhaps, like me, you survived a traumatic childhood; perhaps you survived one that was idyllic. Maybe yesterday brought you an unexpected moment of self-discovery on your way to the grocery store; maybe it was the same mind-numbing trip you've made countless times before to the same store whose aisles you could navigate blindfolded. And, even if it was the latter, I'm willing to bet something happened – perhaps not externally but internally. Think back...what was it? The point is: we are all walking autobiographies, and every moment of every day adds to our histories.
JUNE 12 - JULY 10, 2017
4-Week Course
CLASS OBJECTIVES
The primary goal of this course will be to compose poems based on childhood and adult memories and experiences. Along the way, we'll discuss assigned readings, analyze various techniques and approaches to autobiography/memoir in contemporary poetry, and take a closer look at the usage of "me, myself and I" in the work of select authors of poetry and creative nonfiction (e.g. memoirists). Students will complete weekly exercises based on different poetic forms, such as the prose poem, the epistle poem and the dramatic monologue poem.
WHAT THIS CLASS WILL OFFER
Week 1:
Just What is an Autobiographical Poem Anyway?
Let's find out! We'll read several examples of autobiographic poems, as well as an essay on confessional/autobiographical poetry. Students will write their first poem and post it for peer and instructor feedback.
Week 2:
Letting the Cat Out of the Bag
Writers have enough on their collective plates – from making the time to write to quieting those pesky inner critics. If we start worrying about who's going to read what we've written and, by extension, who might be offended by it...well, we'd never get any writing done. Students will write a second poem and post it for peer and instructor feedback.
Week 3:
Let's Have Some Fun…with the Dramatic Monologue
One of the keys to writing a good dramatic monologue (or comedic, for that matter) is nailing down a speaker's voice: we'll focus on unearthing one of those voices this week. Students will write a third poem and post it for peer and instructor feedback.
Week 4:
This Really Happened to Me (On Second Thought, Maybe it Didn't)
Just because this is a class about autobiographic poetry doesn't mean we're writing exclusively about ourselves or that everything we're writing is "true." Students will use the epistle (e.g. "letter") form to write their final poem and post it for peer and instructor feedback.
Strongly Recommended Text:
The Poet's Companion– Kim Addonizio and Dorianne Laux: This book is an excellent resource for poets and includes essays on craft, as well as numerous writing prompts and exercises (a few of which we'll be utilizing in class).
Recommended Texts:
Although not required reading, the books below are great starting points, chockfull of rich storytelling and lean heavily toward autobiography (in fact, the book by Nick Flynn is a memoir).
Lucifer at the Starlite– Kim Addonizio
The Trouble with Poetry and Other Poems– Billy Collins
Birth Marks– Jim Daniels
All-American Poem– Matthew Dickman
Another Bullshit Night in Suck City– Nick Flynn
What the Living Do – Marie Howe
What Work Is– Philip Levine
ABOUT MICHAEL PASSAFIUME: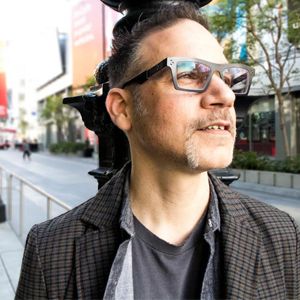 photo credit: Rachael Warecki, CameraRAW Photography
Michael Passafiume is a Brooklyn, NY-based writer whose work has appeared in Black Heart Magazine, Drunk Monkeys, MadHat Lit, Meat for Tea and The Subterranean Quarterly, among others. His chapbook, archipelagos, was published by Blue Hour Press in 2015. A graduate of Antioch University Los Angeles' MFA in Creative Writing program, he also holds a BA in English and an MA in Theater from Binghamton University. Michael is currently at work on his first novel, All the Wrong Choices for All the Right Reasons.